Reflections on the first year of The Program audio series
Enhance readability:
Off
On
Powered by Beeline Reader

The Program audio series is a fiction podcast I write, direct, edit, and produce. Fans have described it as "love child of Black Mirror and NPR". It's made on zero budget and has so far received over 130,000 downloads.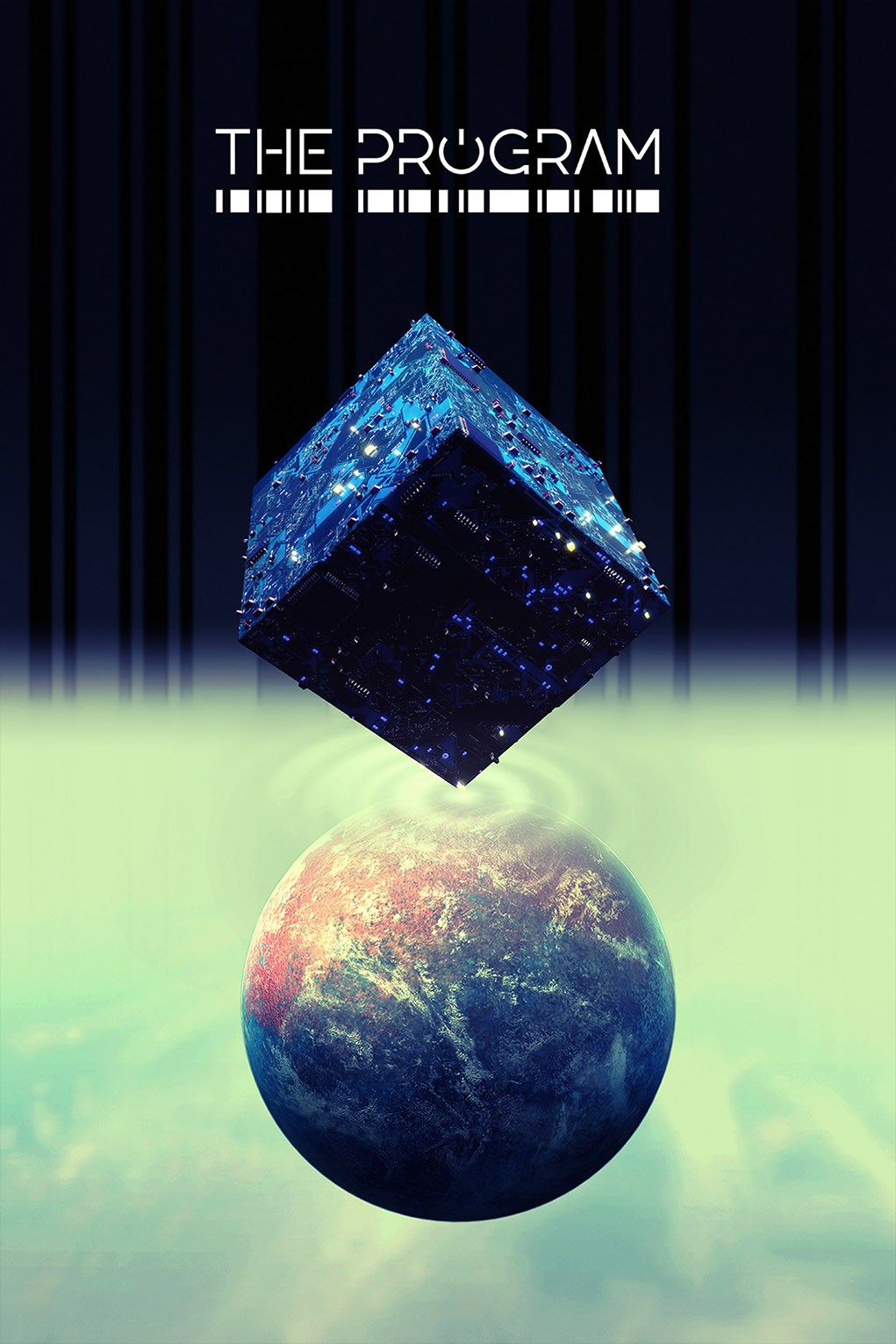 I described how The Program came to be and how it launched in my first blog post back in April, so if you're an aspiring podcaster make sure you check out the first instalment as well. We're picking up where that article left off - and just like last time, mistakes made & lessons learned are in bold.
US store feature
Hands down, the most important promotional vehicle for The Program so far has been Apple Podcasts. In the first 6 months since The Program's release, they featured the show in 5 countries - Canada, Australia & New Zealand, and the UK & Ireland. Then in June I finally obtained the jewel in the crown - no, not India, but a spotlight in Apple Podcasts US. Noticing that The Program hadn't been included in their newly established "Immersive Fiction" category, I notified Apple's partner for Canada of the travesty. With tensions between the US and Canada already running high because of the steel tariffs, the matter was brought directly to Trudeau and Trump, and a compromise was soon reached: The Program will be listed as the number 1 show in "Immersive Fiction", and Canada will concede their security council seat at the UN.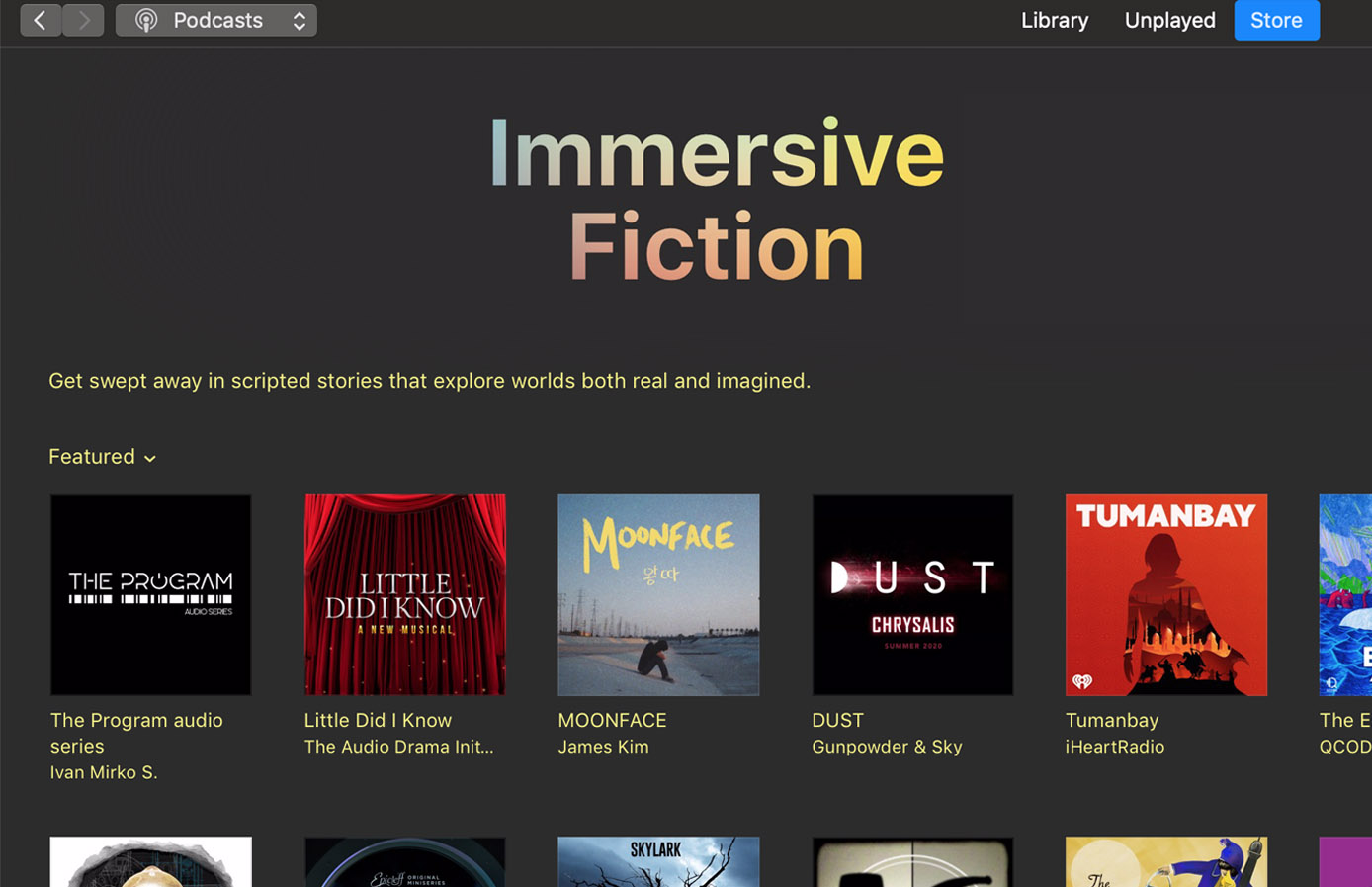 Having been featured for almost 6 months now, I'm quite confident that at least half of my daily downloads is attributable to the giant from Cupertino. Spotify however remains elusive, so if anybody reading this can lend a good word please contact me and help avert another international crisis.
Change of hosting
Earlier this year, my hosting provider Wooshkaa changed their strategy and decided to cater to established podcasting partners - which makes sense seeing that they provide power features such as IAB certification. However, for me this meant my hosting charges would go from zero to $100 per month, which just didn't make sense seeing that The Program's still a money-losing operation (turns out audio drama is not the most lucrative of fields - if this were a Medium post, it'd be the highlighted section).
So I switched to RedCircle, a podcast host that's not only free, but also boasts cool extra features such as built-in capability to accept listener donations, cross-promotion with other shows, and dynamically inserted ads - a feature I haven't taken advantage of yet, but which brings us to a topic that seems to be quite popular.
Monetization
More than one person has asked me why I haven't mentioned the monetary aspect in my first article (two - it was two persons). The answer is simple: back then there was no monetary aspect to talk about. At the time, the only way to support the show was to chip in a few bucks at buymeacoffee.com - a service which seemed like an affable alternative to Patreon. However, as the builders of our civilization remarked, nomen est omen - while I was able to get a bit recurring revenue on buymeacoffee, most people treated it as a tip jar. Which is perfectly fine, since my motivation for making The Program was and is deeply intrinsic. I was becoming aware however, that in order for the show to grow I had to start generating at least some income from it - if only to compensate my collaborators who contribute their time and energy into the endeavour.
So at the end of September I introduced five more ways to give to the show with the promise of bonus material to supporters (one mini-episode and two alternative endings that were previously available to everybody). Here are the results:
Liberapay: crickets
Bitcoin: 1 donation sent from a friend to test the wallet
Paypal: 2 donations
Interac: 3 donations
Patreon: 29 patrons pledging $125 per month
Which goes to show that Patreon is king. Which stupefies me, because for the life of me I don't see what's so special about it - as far as I can tell, people don't use Patreon to find new content, meaning the service itself is not bringing me subscribers. Sure, I guess it's true Patreon was the first site that successfully attracted people with disposable income and persuaded them to financially support content creators. But to now take a 20% cut in perpetuity (which is how much payment, platform, and payout fees deduct) seems like pure rent-seeking to me. This, combined with the fact that all these platforms are accountable only to themselves, is why I'm strategically building a relationship with my patrons exclusively through email, which is how I dispense bonus content (until a Silicon Valley company inevitably figures out how to insert themselves between people's emails in order to extract profit).
One more way I tried to raise money for the show was by selling merch. I initially looked at Teepublic for this, but ultimately opted for the combination of Printful integrated with LaunchCart, as it offered more customization and the ability to set my own profit margins. The result is The Program's official store, where I sold a whopping 4 items. However, I do feel like I've got myself to blame for that, as I don't think I've done my best to create compelling products, and I plan to give it another go later on - but I'm definitely putting merch on hold until my audience grows much bigger.
While I still haven't inserted ads into the show (and at this point have no plans to), I was able to attract the show's first sponsor: a lovely lad by the name of Boris and his company Atlas Authority reached out and bought the show the recording equipment, allowing us to own the means of production and bringing the global class struggle one step closer to its end. Boris shrewdly realized that investing in the show now - while probably not making most sense from the strict numbers perspective - assures that his message will be heard in the years to come with exactly the kind of audience his Atlassian consulting company wants to attract. And if The Program crashes and burns, hey, at least they supported something that brings joy to people, versus giving money to Mark Zuckerberg. Speak of the devil...
Social media
Early on I made the decision not to promote The Program on any properties owned by Facebook, which probably hurts the show, but helps me live with myself. The two networks I am active on are Twitter and Reddit.
The two couldn't be more different. From my experience, Twitter is where the rich and the famous pontificate to the masses and no real communication takes place. Despite making original content for over a year now, I had little success either getting new listeners or building any sense of a community. I still post there but mostly because I enjoy making illustrated quotes from the show and I don't know where else to publish these. But my point stands that I do not recommend spending time on Twitter if your goal is to organically promote an audio drama.
Being a part of reddit on the other hand has been nothing but pleasure. The Program's subreddit facilitated some great discussions, allowed me to get valuable feedback, and most definitely promoted the show to new audiences. Especially valuable was the subreddit r/audiodrama, adeptly moderated by Hitch42, which is shaping into a must place to promote any audio fiction. I also gained quite a number of downloads from a post I was allowed to publish in r/blackmirror that compared the two shows (still waiting for someone to call Black Mirror "The Program you watch instead of listening to").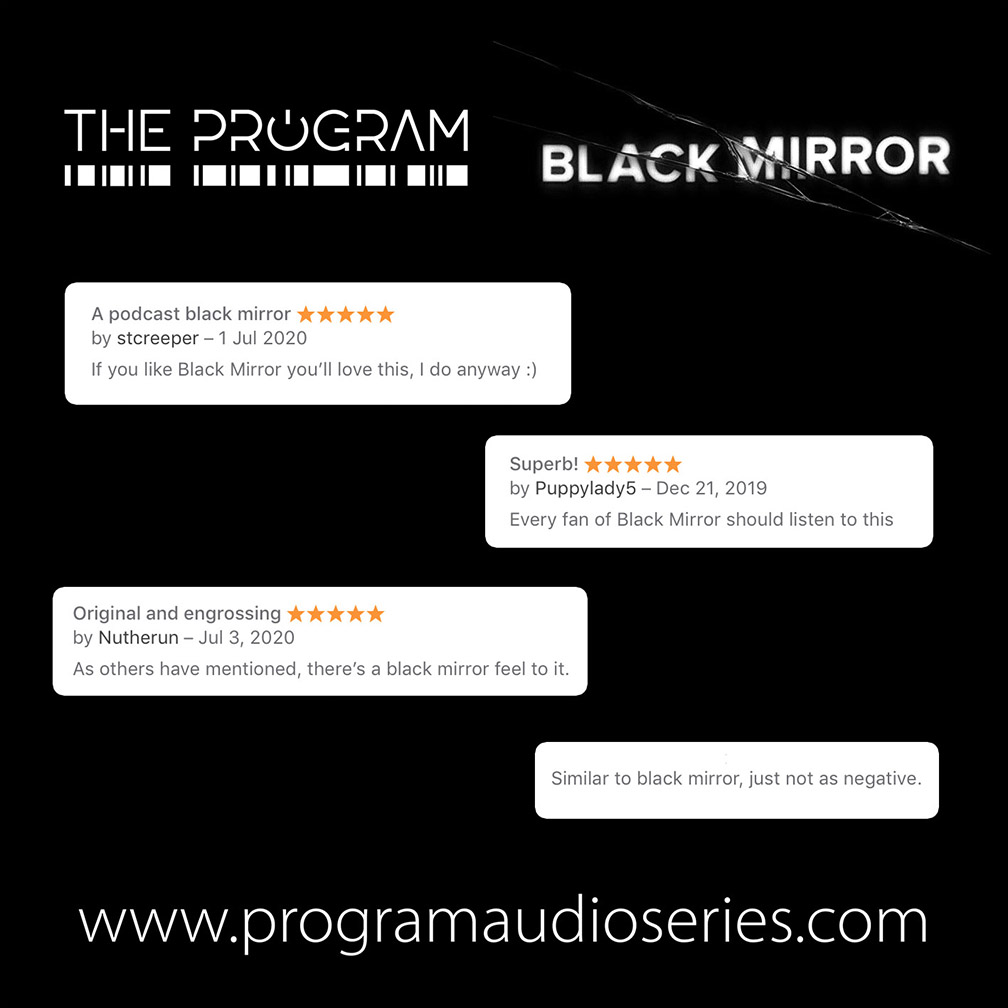 I definitely shouldn't forget to mention HackerNews crowd again, not only for being so kind to repeatedly upvote and promote The Program's threads, but also for being a wonderful resource and a constant source of inspiration (incidentally, it also has an absolutely masterful moderator going under the moniker dang, offering further proof that mods are the secret ingredient to successful online communities).
Contributors
During the course of the year, my collaboration with Christien Ledroit, a super talented musician (and incidentally a neighbour), grew ever more fruitful. Chris so far supplied music for five episodes, three of which he fully scored - in some cases actually facilitating the episode to transpire (for example, I wouldn't have made More parrot than predator were it not for Chris who created the soundscape that comes alive in synch with the A.I. from the story). Chris is currently scoring three more episodes in various stages of production, so expect to hear many more of his fine works.
The music that isn't made specifically for the show mostly comes from Neosounds, a royalty-free website I can absolutely recommend for the quality of their tunes and ease of use, and also because they have been generous enough to kindly extend the discount they provided to this poor producer (cost of music is the main reason the show is still not profitable even with the supporters and owning the equipment).
On the visual side of things, the show's artist Carlos Costa continues to amaze with his official illustrations, depicting three more episodes and creating new show art (which you can see at the top of the page).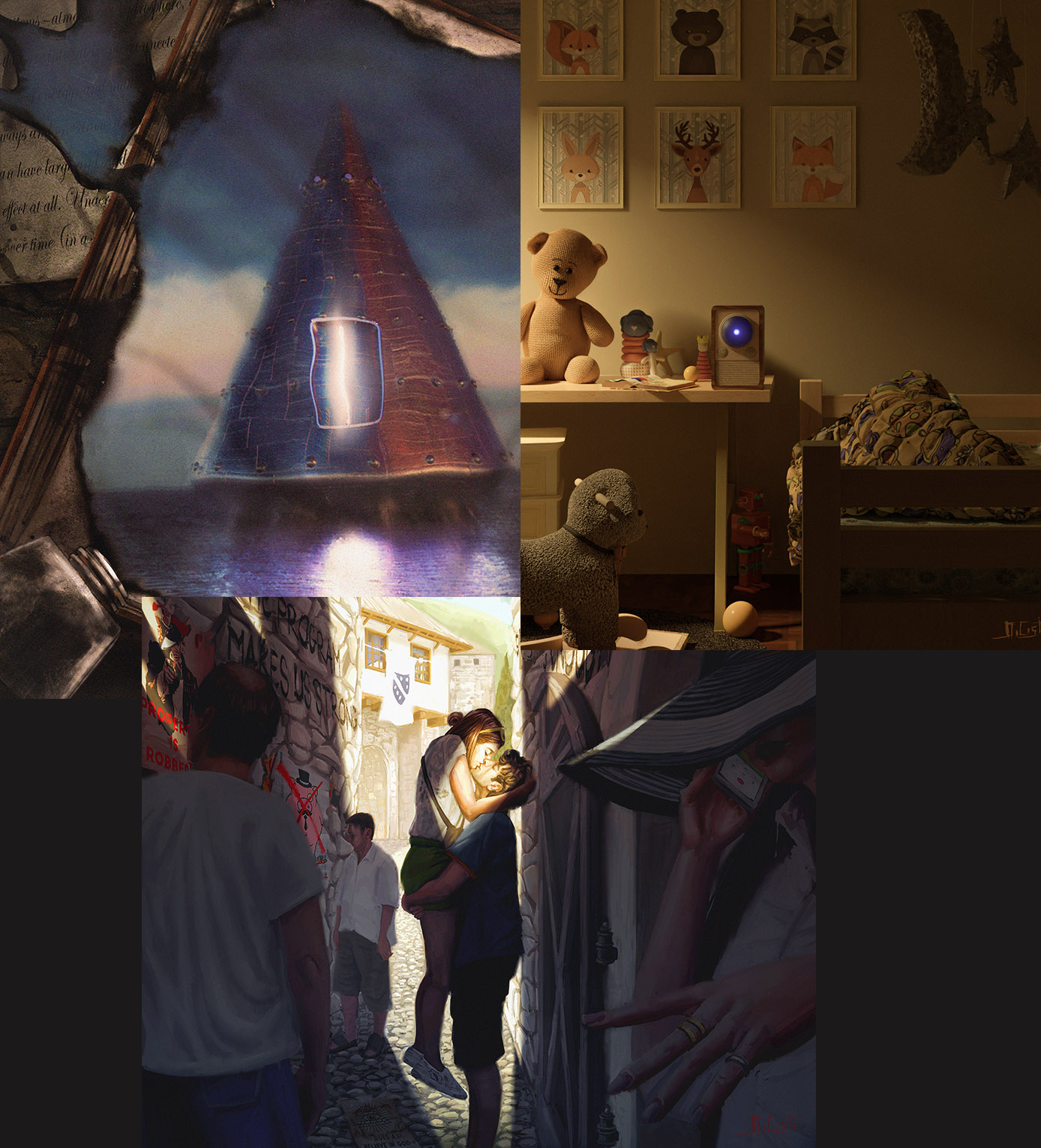 While mentioning contributors, I would be remiss to not mention all the wonderful actors who have literally given The Program a voice. A lot of them became frequent collaborators and you can find out more about them not only in the show's credits available at this website, but also on The Program's official imdb page.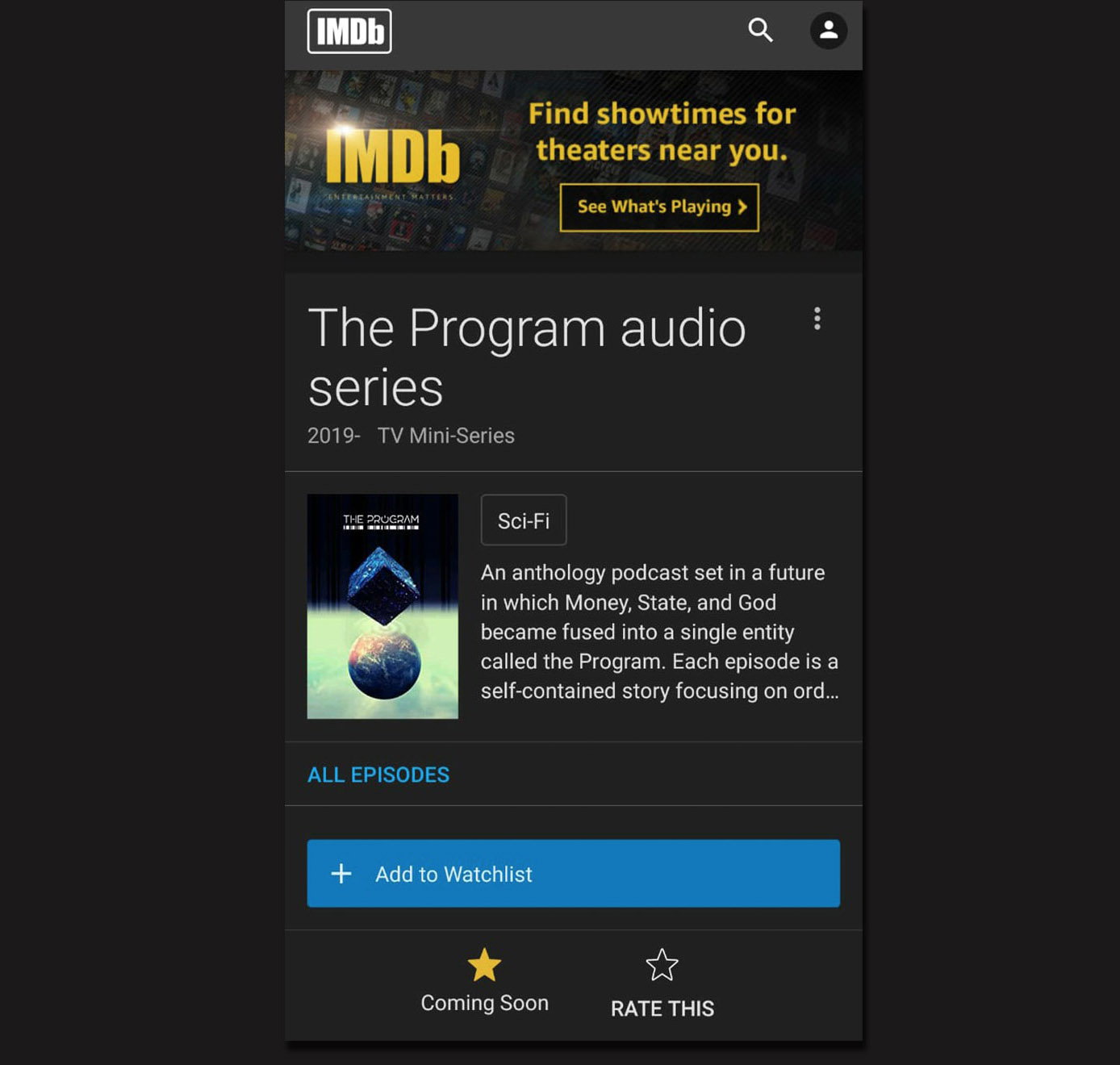 Yup, The Program has an entry on Internet Movie Database now, since they started allowing podcasts earlier this year (seems it was too much of a hassle to add "Audio Mini-Series" as a category though...) Use this guide if you'd like to do the same.
Stats
Let's talk hard numbers. The Program is currently at 16 episodes, having effectively launched with six and released one per month since (skipping May because of a global pandemic you might have heard about). A year in, the show stands at >130,000 downloads, which means that it on average gets over 10,000 downloads per month. This translates into 200 to 400 downloads per day, with spikes each time a new episode is released. I was able to increase the number of downloads in the first 30 days to over 4,000 - which is a metric that is apparently all the rage in the podcast world, even though it doesn't really apply to the kind of content I create. You see, unlike a daily news programme for instance, audio fiction has a much longer shelf life (another reason I think Boris made a smart bet to sponsor the show, as I see no reason why people wouldn't listen to these episodes in the years to come). The audience it reaches is predominately in rich markets - here's the number of downloads broken down per country:
USA - 52,000 (40%)
UK - 34,000 (26%)
Canada - 30,500 (23%)
Australia - 8,000 (6%)
Curiously enough, the 5th place belongs to Germany, a non-English speaking market (mein Deutsch ist leider nicht gut genug für Geschichte in diese Sprache zu schreiben).
Speaking of statistics, The Program collected over 300 Apple Podcasts ratings during its first year - even though by all accounts this is a vanity metric, as Apple recently finally confirmed ratings and reviews do not play into podcasts rankings (source: Podland episode 1, 7'30'').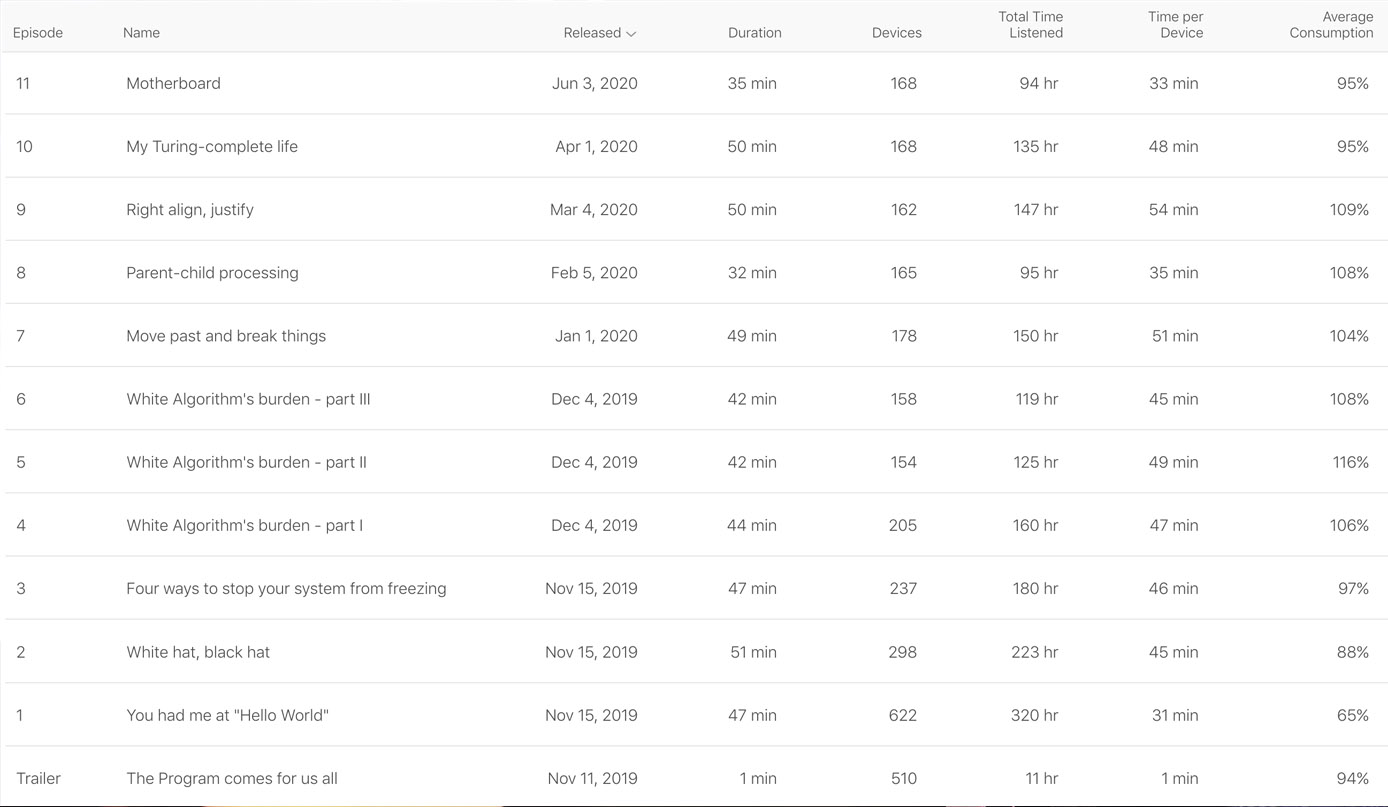 (Note: Apple Podcasts does not track all devices, but extrapolates data from a subset)
The stat I am quite proud of is completion rate, which regularly exceeds 100%, indicating that not only do people finish the stories, but actually listen to them more than once - which Apple confirmed does play into podcast rankings.
Speaking of which, The Program is currently #49 on the all-time Science Fiction list in Apple Podcasts US, #39 in the UK, and #18 in Canada - all without spending a cent or a penny on marketing and no backing from an existing podcast network.
New survey results
Show's first anniversary marked a fitting occasion for another audience survey, which I use to solicit feedback that influences both the creative and "business" decisions I make. This time I got 43 responses (demographics: ages 16 to 74, median age 36, 74% male) and here are the results:
Episode ratings (1-4 scale, POOR - SO-SO - GOOD - GREAT)
N.B. this article refers to the original episode order, which has since been updated
This makes 3.53 the average episode rating. I find it interesting how the ratings improved when compared with the first survey - I guess the most plausible explanation is that discrepancies are to be expected as the sample size is so small (and likely to contain the most ardent show fans).
Another question that influences how I approach future episodes is the big one: Who do you think is behind the Program? (multiple choice)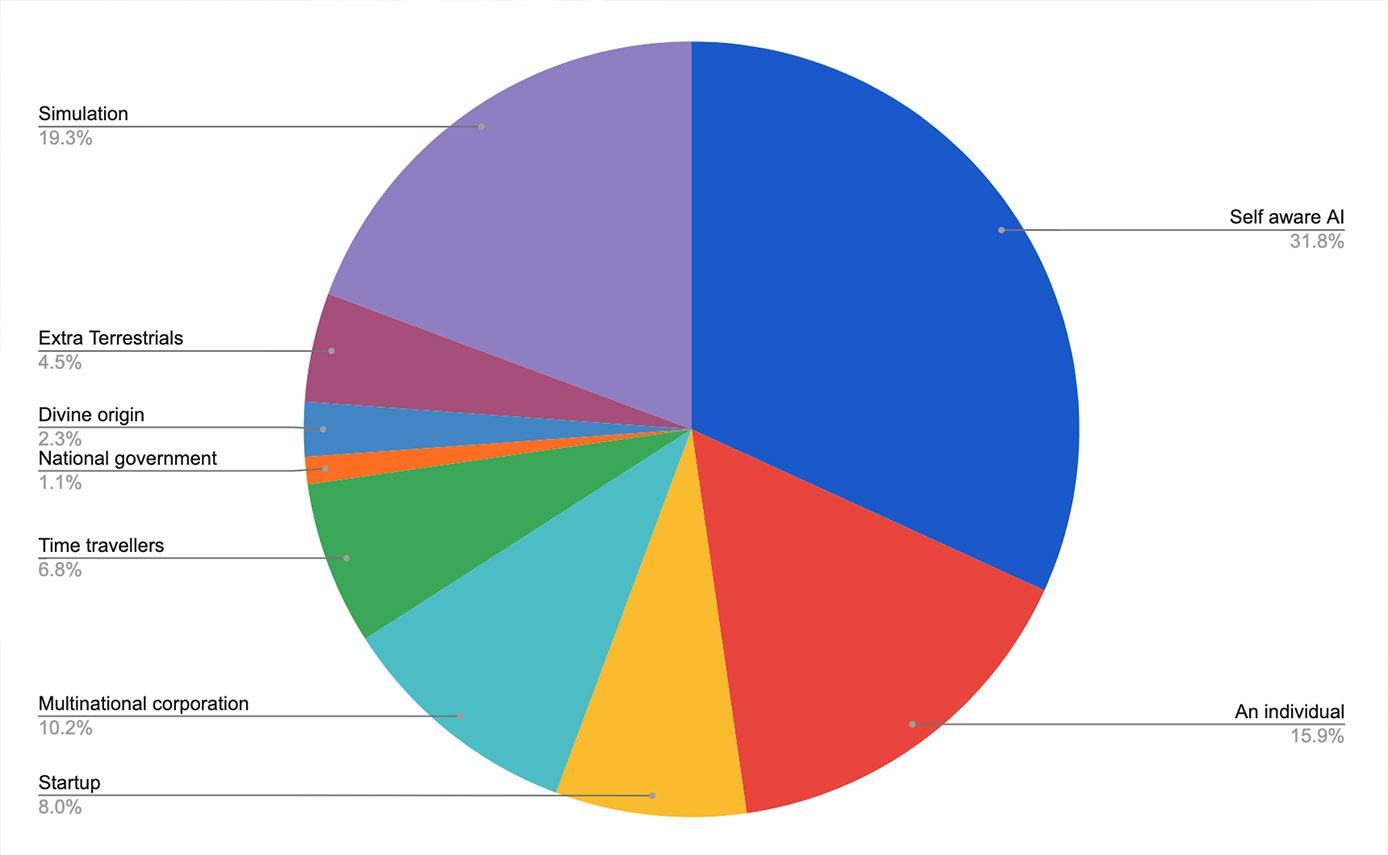 Again, it's interesting to compare these answers with those from the first survey - seems the biggest change is the decrease of believers in national governments (which reflects the real world situation nicely).
Next steps
The Program is a show about the future, and as any show about the future it is actually about the present. And at present I see a future for the show. Financial supporters are definitely the wind in its sails. And recently I got a bit of a breeze personally as well, when a loyal listener commissioned my project management services at his company (cheers, Maneesh of Pavlok!)
The show is taking a breather in December, and returns in 2021 with five more episodes currently in the works. The most ambitious of them is a pseudo-historical generational drama in three parts. I was fortunate enough to be awarded the Toronto Arts Council playwrights grant to write that one, which is great, as it's going to be a bitch (as us playwrights are wont to say).
Like last time, I hope information above might prove useful to someone embarking on a similar voyage. In case you haven't checked out the show yet, swing by the homepage and pick an episode that sounds interesting to you. Don't forget to let me know how you liked it afterwards.
Read the third instalment chronicling The Program's journey here.