The Program results: how I used Hacker News to launch a fictional podcast series
Enhance readability:
Off
On
Powered by Beeline Reader

The Program audio series is a fictional podcast I write, direct, edit, and produce that premiered on Hacker News, followed by official launch in November 2019. Since then, it was listened to 55,000 times, Apple Podcasts featured the show in the UK, Canada, and Australia, and it's been broadcast on CBC radio. This candid analysis I penned for readers of Hacker News contains the story, the numbers, and advice which can hopefully help others contemplating launching a podcast (mistakes made & lessons learned are in bold).
Introduction
For those who haven't heard (of) The Program audio series before, imagine Black Mirror as a podcast. Every episode is a standalone story set in a future in which Money, State, and God have been fused into a single entity called the Program. The world of the Program is neither a utopia nor a dystopia, as the new system produced both winners and losers - ordinary men and women who are sometimes heroes and sometimes the villains of their own lives. And to them, it is not this future they find terrifying - but our present.
Each episode is ~45 minutes long and takes roughly three months to produce. This meant I wasn't able to rely on a frequent release schedule to build my audiences and I had to build up a backlog of episodes before launching.
MVP - Minimum Viable Podcast
Having had my share of failed launches in the past (fun fact: I'm a proud founder of an online dating app that produced exactly one couple - still waiting for an invitation to that wedding), I definitely didn't want to sink years into making something nobody is going to listen to. So I decided to create an MVP - a trial run of three episodes.
I'm an IT project/product management consultant when not making utopian radio dramas, so I only started earnestly working on this in October of 2017 at the moment when my gigs were slow. My target audience while dreaming up the series were Hacker News readers: intellectually curious people whose internal Venn diagram crosses IT with humanities. In fact, HN discussions were the direct source of inspiration for at least two episodes of The Program so far (see references for Parent-child processing and My Turing-complete life).
Being a member for many years, I've had the chance to exchange a few emails with the venerable HN moderators - dang and stcb - regarding some of my contributions to the community. So when the time to unveil The Program MVP finally came, I felt comfortable asking for their advice on how to best present the project, which helped the thread reach the front page at the end of June 2018.
Remember, my goal with the MVP was to determine if the concept was going to resonate with anybody apart from my parents (who I knew were going to tell me that the show is amazing nevermind the fact they don't speak English). So I created a survey asking HN listeners to rate each episode on a 1 to 4 scale (corresponding to POOR - SO-SO - GOOD - GREAT). I received 44 responses with the following results:
Again, the maximum possible grade was 4.0, so these were exceptionally promising numbers. However, what encouraged me even more was the qualitative feedback I got: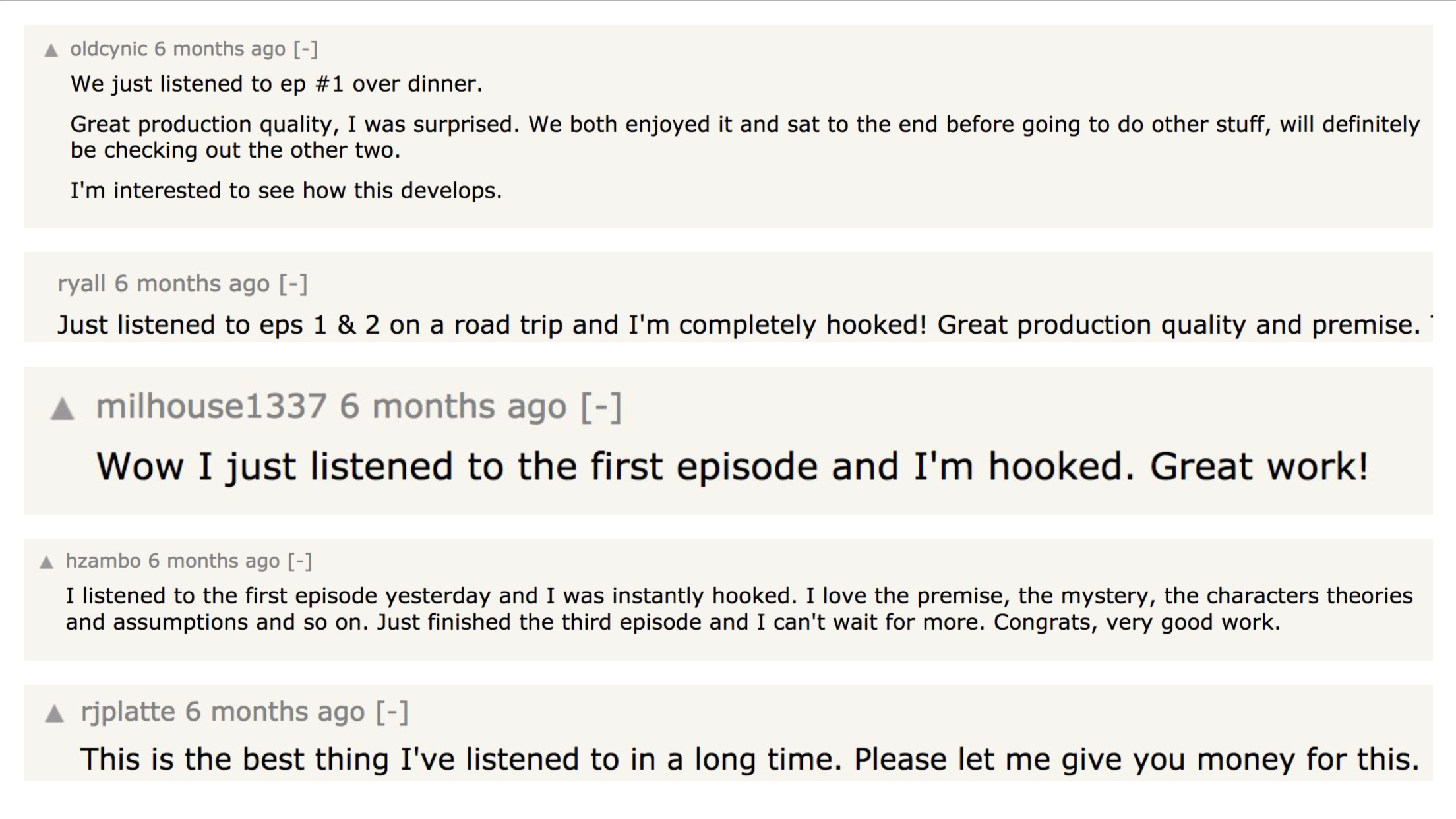 So I deemed the MVP a success and spent another 18 months working on more episodes.
The launch
Once I had seven episodes finished, and three more in advanced stages of production, I finally pulled the trigger and in November of 2019 submitted The Program through my hosting platform Wooshkaa to all major podcast directories.
While the thing was propagating, I approached Apple Podcasts, the strongest player in the podcast ecosystem, with the aim of getting featured on The Program's home turf - Canada. Apple Podcasts has a form to request a promotion which I duly filled out, but I'm quite certain mine would have drowned in thousands of others if I hadn't also been personally vouched for by a well-connected podcast insider. And how did that happen? The short answer is networking. When I arrived to Canada three and a half years ago, the only Canadians I knew were Justin Trudeau and Justin Bieber. So I applied for a government mentorship program connecting newcomers with accomplished people in the industry. This is how I got introduced to an executive director at CBC, who became my mentor and closest friend in my adopted homeland. And while he wasn't able to help me out directly, he listened to each and every episode of The Program before they were released and connected me with people in the podcasting space. One of them was Chris, who thought highly enough of The Program to recommend me to Apple's partner relations person who then actually listened to the show and decided it's worthy of being featured:

This kicked off a virtuous circle - the promotion was enough to propel The Program to #1 spot in the fiction category: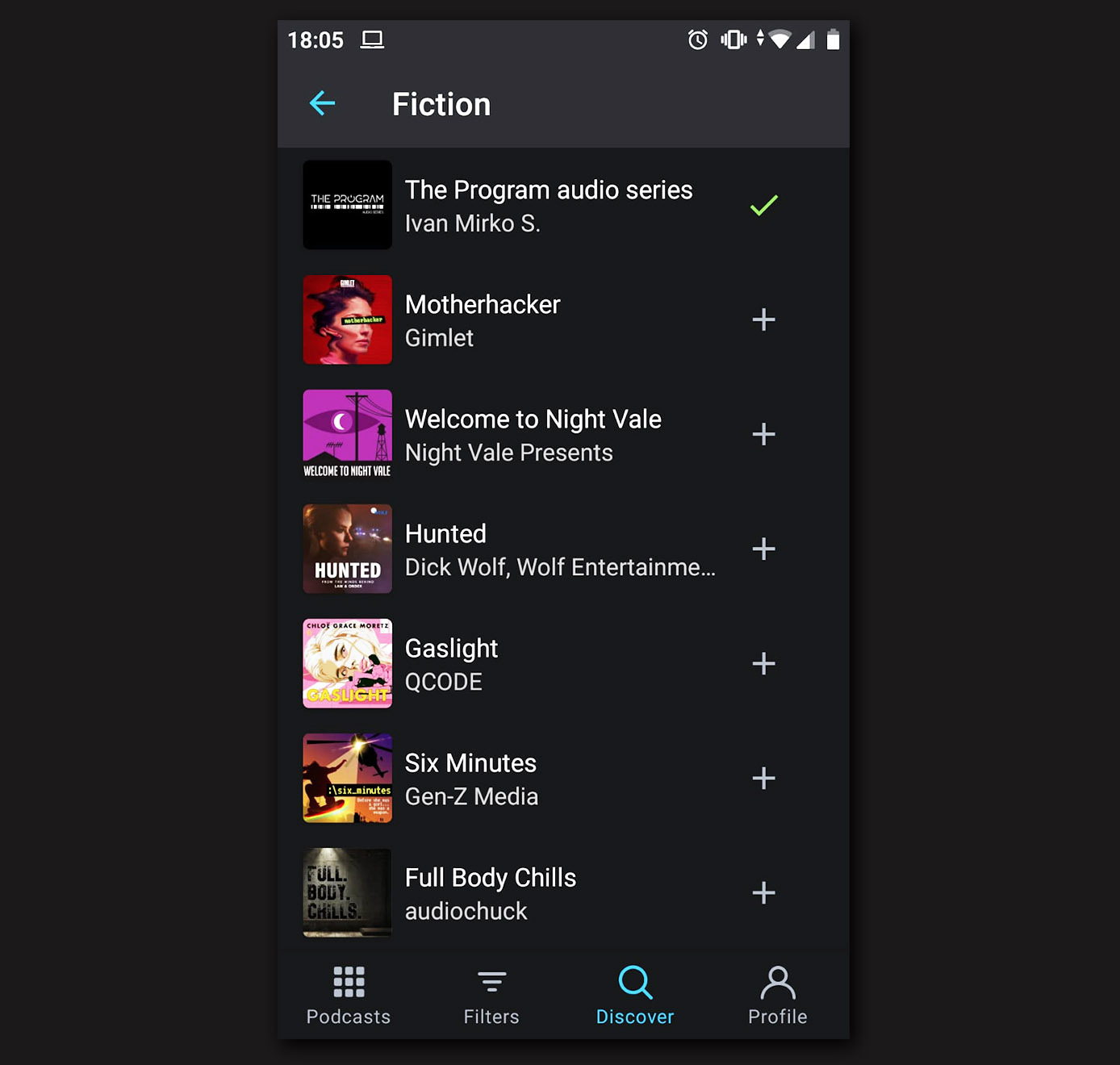 This in turn allowed me to approach Apple Podcasts in other territories as "the indie podcast that beat Gimlet and Night Vale". However, again it wasn't me who was tooting my own horn, but had my contacts at Whooshkaa (which is an Australian company) champion my cause to Apple Podcasts Down Under. The local connection did the trick and a few weeks later I got promoted in Oz as well:

On a roll, I then got the direct contact of Apple Podcasts' head in the UK. I emailed him how his Commonwealth colleagues kindly received The Program, highlighting the fact that it was an indie production made with zero budget. I guess having the same Queen does have its advantages, because less than a week later I received his reply that The Program got a promotion in the fiction category: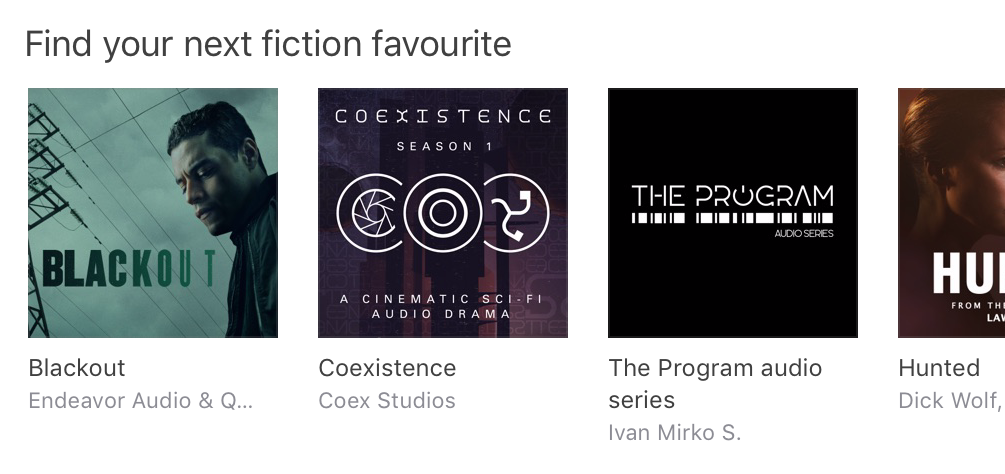 I then made my move for the land of Justin Timberlake - the US store, but unfortunately the competition there seems to be on a different level, and so far I was unable to crack the mothership. Ditto for Spotify, who I wasn't able to find anybody to connect with and who at this point don't even accept general promotion requests - if anybody reading this has an in for either, please let me know.
Apple Podcasts promotions were a huge boost for The Program, which is in line with traditional thinking that the majority of effects stems from a single cause. However I was able to find a few other sources of traffic as well. The show's best day to date remains the one when I shared the news that The Program has been officially launched with HN. This prompted another round of discussion, which coupled with the release of White Algorithm's burden trilogy, gave me a huge spike (and as of this writing unsurpassed):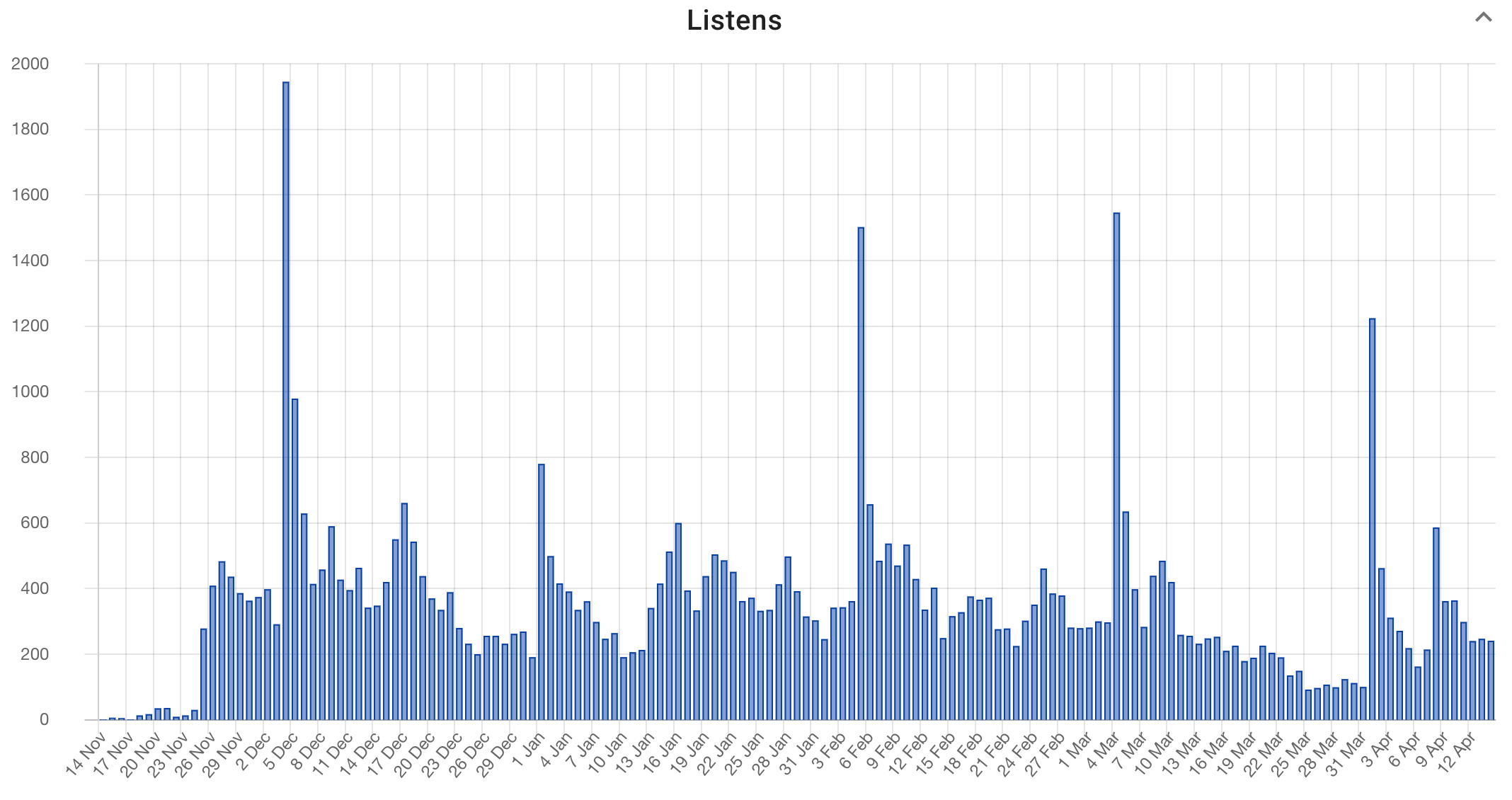 This brings us to probably the most interesting part of this analysis: concrete numbers.
Stats
As I said, The Program across all the episodes got 55,000 listens so far (a "listen" means that a long enough portion of the episode was actually played VS it being merely downloaded).
If you look at the graph above, you'll notice the following spikes:
2019-11-25 - Apple Podcast Canada features The Program as New & Noteworthy.
2019-12-04 - HN unveil post + episodes 4 to 6 released (White Algorithm's burden trilogy).
2020-01-01 - Episode 7 Move past and break things released. In hindsight, it was a mistake to release it on New Year's day because podcasts perform much better on work days than on weekends and holidays.
2020-02-06 - Episode 8 Parent-child processing released.
2020-03-04 - Episode 9 Right align, justify released.
end of March - Notice the slump caused by COVID-19 lockdown. As mentioned, podcasts are mostly listened while people commute and workout, and both of these activities were curtailed almost overnight.
2020-04-01 - Episode 10 My Turing-complete life released.
Here's the breakdown of the audiences by countries: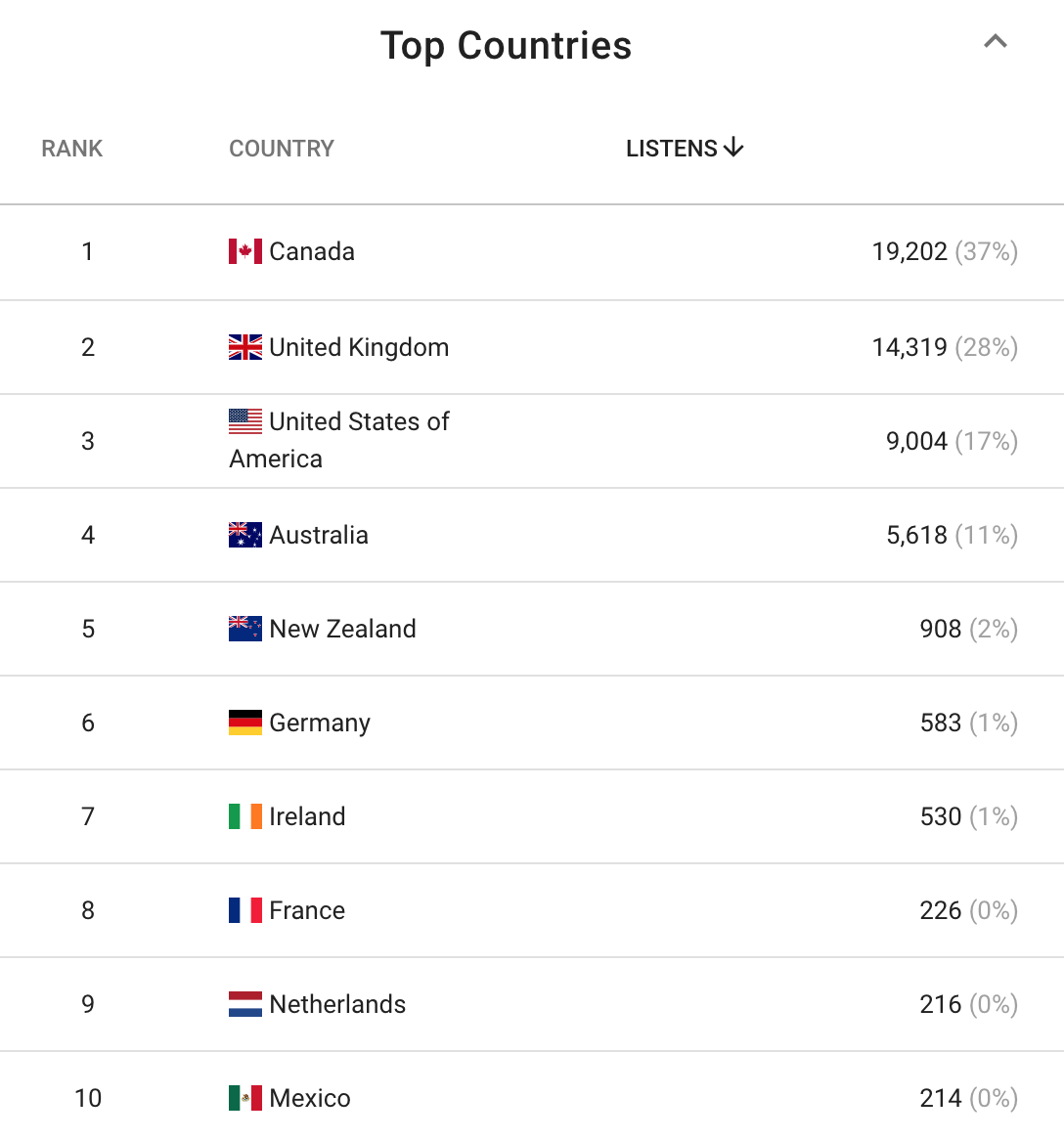 Unsurprisingly, most of the listeners hail from territories where Apple Podcasts featured the show. The growth in the USA however was organic, which is definitely encouraging. Ditto for Germany, a non-English speaking country which also grew organically.
Apple Podcasts offers some advanced stats, such as consumption - basically the average percentage of the episode that was played as compared against the whole episode duration: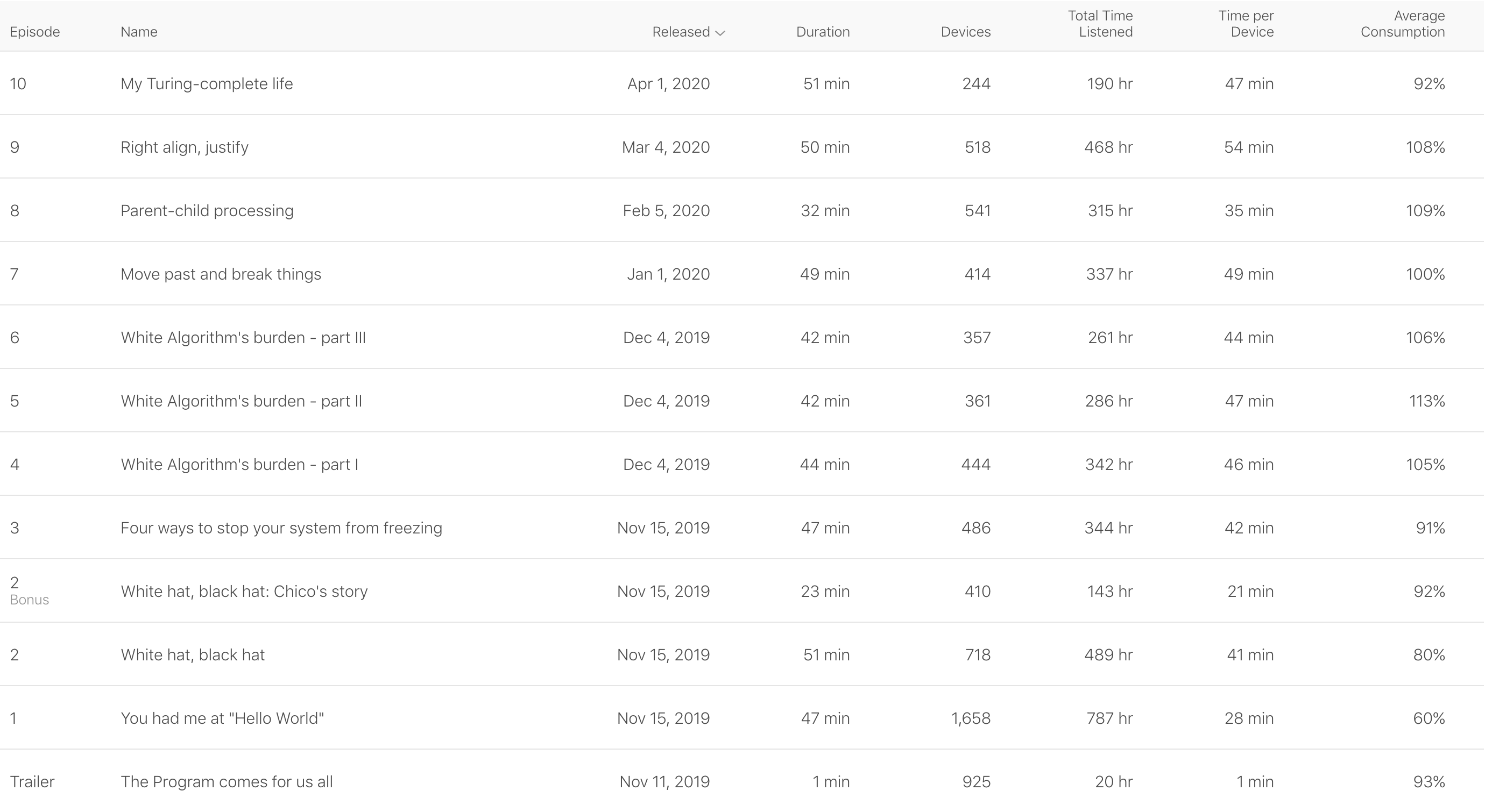 (Note: Apple Podcasts does not track all devices, but extrapolates data from a subset)
You'll notice that for episodes 4 to 9, the consumption is close or greater than 100%. What this tells us is that The Program has remarkable retention - basically people who get to episode 4 become super fans who listen to the entirety of the episode and even replay it.
Or at least I think I'm doing good - I don't really have a reference point so maybe my numbers suck. What I can say for certainty is that this data helped me identify a mistake I made early on - my trailer was WAY TOO LONG. At 3'43'', people were on average only consuming 59% of it (meaning they were abandoning it at around 2'11''). After a week I trimmed the trailer down to 1'22'' and its consumption rate now is 93%.
Social media strategy
I am not a social network butterfly. I think Facebook and Instagram are a net negative for society, which is why I decided early on that The Program won't have a presence there. Principles aside, this was probably a mistake, because I still get more referrals from Facebook through people sharing The Program there than I get from the two social networks I am actively trying to build a following on. Those two networks are:
Twitter, which I'm doing my best to produce original content for in form of audiograms (made in Headliner) and various quotes from the show, but I'm struggling to form a following
Reddit, which might not have afforded me a lot of raw traffic, but where I was able to communicate 1-on-1 with people in relevant subreddits (r/audiodrama) and find a receptive audience. This is also where I connected with a wonderful musician Christien Ledroit who ended up composing some original music for episodes 8 and 10, and a lovely chap by the name of Sam McDonald who was kind enough to write the first in-depth review of The Program.
Of course, I would be remiss not to mention Hacker News again, which while not a social network per se, did connect me with multiple people who helped me in my efforts: Zach Valenti who shared the wisdom he acquired running a hugely popular audio drama Wolf 359, and Maneesh Sethi of Pavlok, who I arranged the first cross-promotion with. I also discovered and implemented Jijo Sunny's platform Buy Me a Coffee.
Budget
Even though it hopefully doesn't sound like it, The Program was made with zero budget. It was and still is a labour of love, and I was lucky enough to have all the performers contribute their considerable talent pro bono. Most of them I connected with through Facebook groups (yes, I know I said I don't like Facebook…) and were happy to take part in the project as it would get them a high-quality portfolio piece for a minimal time investment (the beauty of audio drama is that you don't have to learn the text by heart).
The recording equipment I borrowed from a lovely man by the name of Željko Sorić. He played the main role in the first episode, and his kindness and expertise helped me immensely. There's another lesson hiding here: don't be afraid to ask for people's help. Not to say I didn't encounter any disappointments along the way, but folks are generally quite receptive to indie authors. This is how I got permission to use Jessica Moss' mesmerizing music for episode 7, and I even had some casting agents help me find talent that was particularly tricky to cast without charging me their fees (take a bow Molly & Roger!) I also received invaluable advice from Jeff Ulster, an unbelievably generous chap behind TPX, the leading company in Canadian podcast advertising.
My biggest expense by far was royalty-free music. Most of the music in The Program was sourced from Blue Dot Sessions and Neosounds, both of which are actually quite affordable, but using a lot of tracks adds up quickly. Neosounds was kind enough however to offer me a 25% discount once I explained that I'm an impoverished independent producer, which brought the final sum from $2000 USD to a more manageable $2000 CAD. Not to say that this was a trifle, but I had a good friend chip in and it made the expense just bearable enough to swallow. BTW, did I mention I'm accepting donations?
Other activities
So far I've been mostly observing The Program's accomplishments by looking at the data. One thing I haven't talked about is the direct feedback I've been getting from the listeners all this time, which to me as an author is just as important as the raw numbers.
One of them are reviews, by which I mean people writing how they experienced the show VS just giving it a rating. These have been really positive, with The Program so far receiving 31 five-star reviews and 2 four-star reviews.
The show was also featured in CBC's Podcast Playlist, a radio program highlighting the most interesting new podcasts. While it had little effect on the download numbers, it was really cool to hear The Program broadcast on air.
Carlos Costa, a Brazilian artist and a friend of the show, started producing official Program artwork and has so far illustrated three episodes: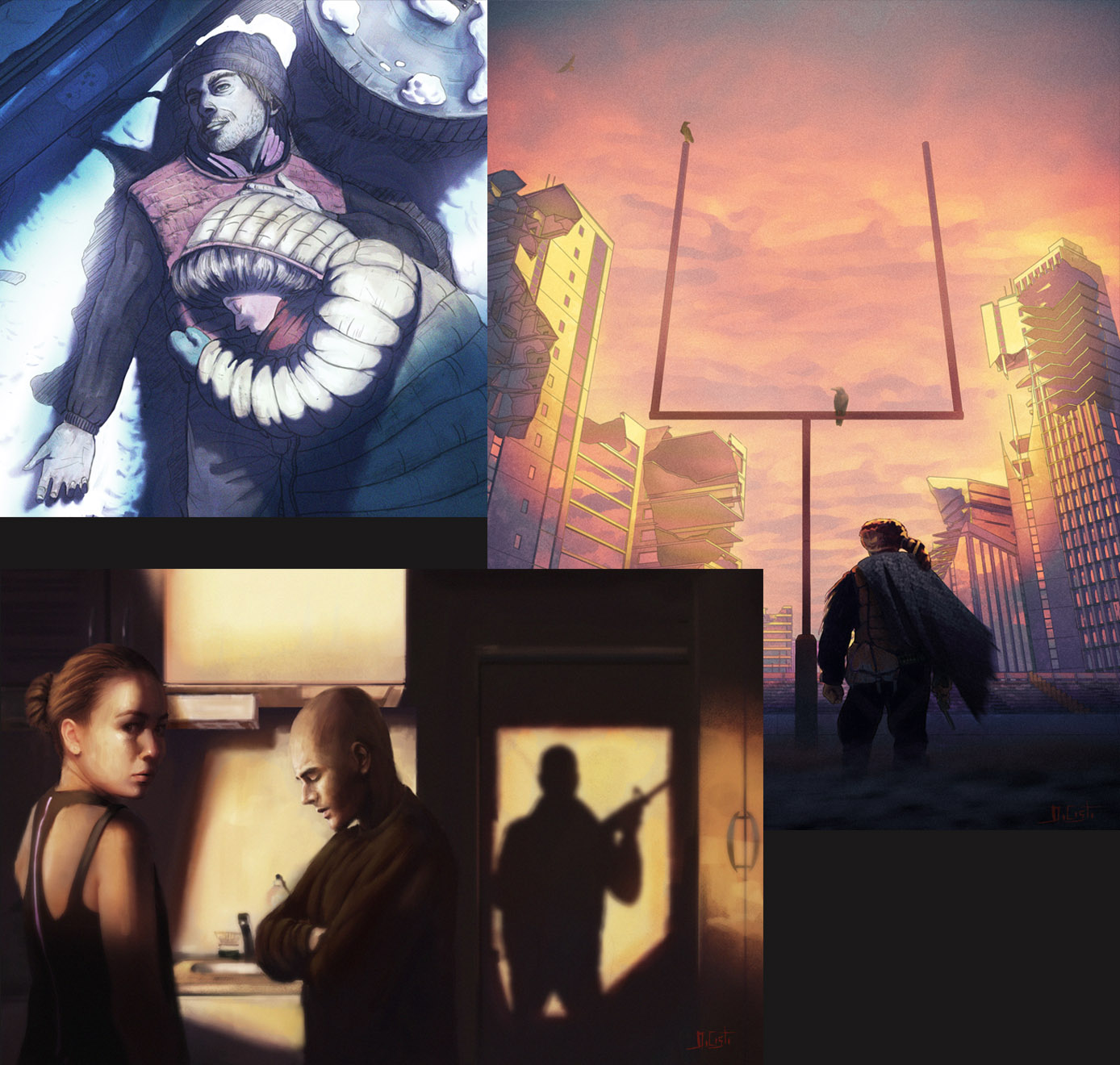 I believe inspiring other pieces of art is the most any creator can hope to achieve, which is why these gorgeous paintings are a huge motivation for me to continue conjuring new stories. Which brings us to the present moment.
Next steps
Having released ten episodes of The Program, what's next for the show? Having asked myself the same question, I did the same as last time: created a survey. I received 47 responses over five days (demographics: ages 18 to 54, median age 33, 72% male). Here are the results:
Episode ratings (1-4 scale, POOR - SO-SO - GOOD - GREAT)
N.B. this article refers to the original episode order, which has since been updated
There's some selection bias here, since obviously people who haven't made it past the first couple of episodes didn't become fans and vote. Based on this result however I'm tempted to make episode 10 the new episode 1, as it is self-contained and obviously I want to start with my best foot forward.
Who do you think is behind the Program? (multiple choice)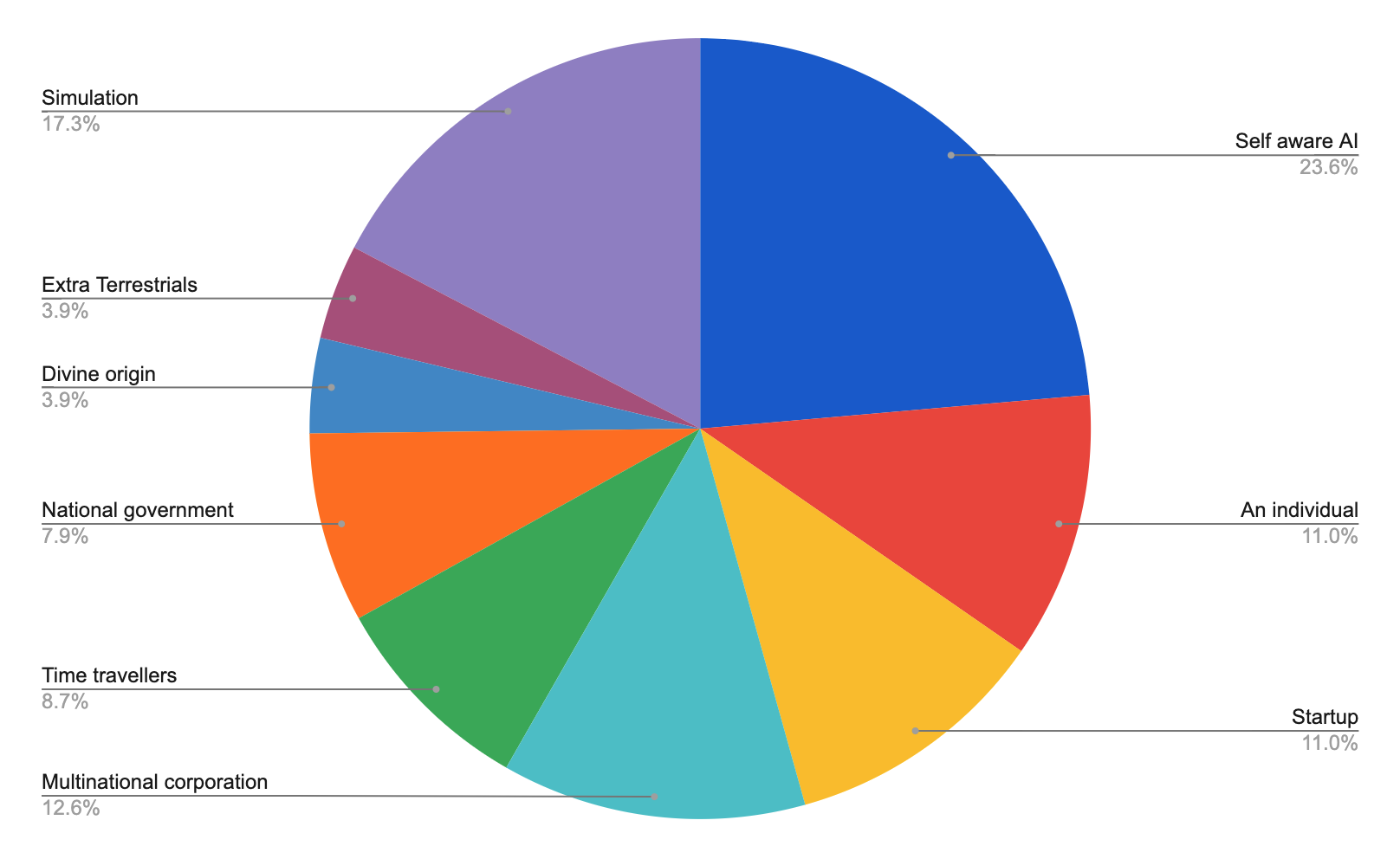 I obviously have to make an episode in which the Program was created by pious aliens.
How important is the explanation of the Program you?
Definitely leaning towards it being important - I promise to produce more episodes exploring the lore!
Speaking of which, I can confirm that I currently have three episodes in various stages of production. The bad news is that COVID-19 is making it difficult to actually produce them. Depending on how things develop, I might take the summer break a tad earlier than expected and return with the second season of the show in the fall. This would at least give me a bit of breathing space, since producing a series like this as a lone showrunner with no resources is very time consuming, yet it is not easily monetizable.
I was told that once a podcast starts getting ~10,000 listens per episode (in 30 days past release), you start approaching the viable business territory. The Program currently gets between a bit under 3000. The way I see it, there are two options how to get to the next level:
soldier on alone and have the show grow slowly over time
partner with a network or a similar entity that could give me exposure and allow me to make the jump quickly
Unfortunately so far I wasn't able to find a suitable home for the show, and I'm not sure how feasible it is to do so in the current climate (I know for a fact that a major production/streaming service won't be greenlighting any new (fiction) projects for the next 3-6 months - I'm not naming names because I got this piece of information off the record). So it seems option A is currently my only course of action for now, meaning I will need to divide my efforts between The Program and paying projects (which reminds me - hit me up if you know anyone in need of an experienced project/product manager).
I hope the information herein might be useful to someone undertaking a similar endeavour. And please, if you haven't sampled the show yet, pick an episode that sounds interesting to you from the homepage and give it a taste. Let me know how you like it.
Read the second instalment chronicling The Program's journey here.